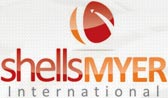 Why Us?

If you are looking out for quality, we provide the Aroma Rich Spices and Fresh and nutritious Vegetables around. The entire range of Spices and Vegetables are procured from the best cultivators and planters. In addition, we provide valuable information to our clients regarding the product.

We also take special care in informing our clients about the additional benefits of importing goods from India (if exists in their country's foreign trade policy). For example, certain countries provide duty reductions, incentives and other facilities/benefits if goods are imported from India.
Export Policy
shellsMYER International has adopted and strictly follows a quality policy to ensure our clients get the best products with complete freshness.
Packaging

In today's competitive world, packaging plays a crucial role in creating value added consumer friendly, self-selling packs. We comprehend the importance of Packaging which adds value to the product in the export & import business and have raised our Packaging Standards for spices and fresh vegetables on the basis of internationally accepted norms We are thankful to the Indian Institute of Packaging for the guidance provided.